The Gray Cat Learning Series
Twelve (12) hands-on, business training courses each ranging from 25-to-50 minutes in length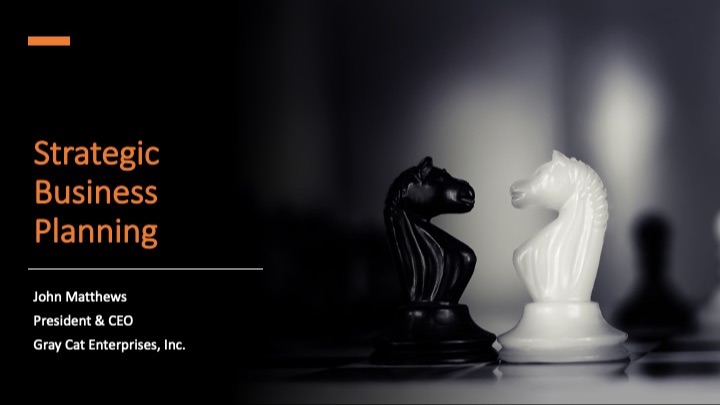 Strategic Business Planning is a Must
A strategic business plan should represent the guiding path for the enterprise, mixing in a historical perspective and its relationship to its future expectations through productivity improvements; capital investments; and an overall tight financial model that ties together all tactical initiatives.
CLICK HERE TO ORDER THE STRATEGIC BUSINESS PLANNING COURSE TODAY!
Game-Changing Strategies for Retailers
This book walks readers through the key elements of founding, maintaining, and growing a business and demonstrates the importance of business planning; and the intricacies of daily operations, merchandising, marketing, real estate, and capital management.
Order Game-Changing Strategies for Retailers from Amazon
"John is one of the most efficient and effective executives I've met. He's very detail oriented but at the same time can think strategically. Projects are planned out in great detail and measured closely to ensure accountability. He clearly sets expectations for those reporting to him and has a reputation of being a "good" boss to work for. Projects, tasks or assignments given to John are completed on time, within budget and of the highest quality."
Forrest Laspe

-

Sr. Director Operations Analysis, 7-Eleven Inc.
"John Matthews is one of smartest, strategic, and instinctive executives I've known. What makes him one of the best is that he's also enthusiastic and practical, cutting right to the chase to maximize effectiveness, and efficiency. He's a master at organization and detail, as well as networker. His communication skills are superior in every way possible, and I would love the opportunity to work together again at some point. Bottom line, you can't go wrong with John Matthews on--or leading--your team."
Christopher Ilitch
-President and CEO of Ilitch Holdings, including Little Caesar Enterprises, the Detroit Red Wings, and the Detroit Tigers
"John is an extremely talented senior executive with superior strategic planning expertise. I found him to be particularly talented at setting the strategic direction of the company and providing support and direction to the staff. John is a very creative thinker, extremely organized and an excellent communicator with exceptional presentation skills. His depth of knowledge of the retail environment is unsurpassed."
Phyllis Hamilton
- Former Advertising Manager, Clark Retail Enterprises
John Matthews

- President & CEO, Gray Cat Enterprises, Inc.

John Matthews is the Founder and President of Gray Cat Enterprises, Inc. a Raleigh, NC-based management consulting company. Gray Cat specializes in strategic project management and consulting for multi-unit operations; interim executive management; and strategic planning. Mr. Matthews has over 30 years of senior-level executive experience in the retail industry, involving three dynamic multi-unit companies. Mr. Matthews experience includes President of Jimmy John's Gourmet Sandwiches; Vice President of Marketing, Merchandising, Corporate Communications, Facilities and Real Estate for Clark Retail Enterprises/White Hen Pantry; and National Marketing Director at Little Caesar's Pizza! Pizza!