The Gray Cat Learning Series
Twelve (12) hands-on, business training courses each ranging from 25-to-50 minutes in length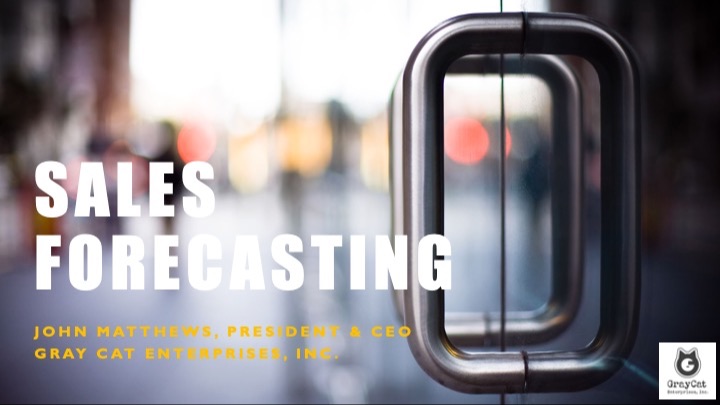 Sales Forecasting is About Accountability - Learn How to Deliver Results
The goal of sales forecasting to provide a ratable prediction – by customer and by salesperson – of the sales to be delivered in the upcoming forecasting cycle. While there seems to always be a rush to technology to solve all our problems, sometimes you just must have the basics in place first, to capture the benefits of such tools.
CLICK HERE TO ORDER THE SALES FORECASTING COURSE TODAY!
Game-Changing Strategies for Retailers
This book walks readers through the key elements of founding, maintaining, and growing a business and demonstrates the importance of business planning; and the intricacies of daily operations, merchandising, marketing, real estate, and capital management.
Order Game-Changing Strategies for Retailers from Amazon
"John has been a great asset to the KProSource team as we have transitioned to being owned by Deluxe. Through his collaboration and innovative brainstorming, we have focused on vertical marketing and growing our sales in each of our vertical markets. John has provided great advice on how to increase sales and create new business."
Rachel Anderson
- Sales and Customer Account Manager, KPro Source
"I have dealt with John Matthews for over three decades, and have been impressed by his business savvy as well as his ability to see through the minutiae and target the main issue. John epitomizes that high-impact combination of extensive industry knowledge layered with marketing, sales and financial ingenuity. John also has a very strong work ethic, and always gets the job done in a timely and effective manner."
Don Levin

- President, DRL Enterprises, including Republic Tobacco and the Chicago Wolves Organization
"John is a team builder who utilizes people's strengths and talents to formulate cohesiveness and create alignment. John's knowledge of business principles and consumer activity, combined with his ability to turn concepts into reality, make him a stellar addition to any Senior Management Team in just about any field. John brings the highest-level passion, structure, planning and creativity to everything he touches."
Dan Dolgner
- Former Director, Category Management, Clark Retail Enterprises, Inc.
John Matthews

- President & CEO, Gray Cat Enterprises, Inc.

John Matthews is the Founder and President of Gray Cat Enterprises, Inc. a Raleigh, NC-based management consulting company. Gray Cat specializes in strategic project management and consulting for multi-unit operations; interim executive management; and strategic planning. Mr. Matthews has over 30 years of senior-level executive experience in the retail industry, involving three dynamic multi-unit companies. Mr. Matthews experience includes President of Jimmy John's Gourmet Sandwiches; Vice President of Marketing, Merchandising, Corporate Communications, Facilities and Real Estate for Clark Retail Enterprises/White Hen Pantry; and National Marketing Director at Little Caesar's Pizza! Pizza!