The Gray Cat Learning Series
Twelve (12) hands-on, business training courses each ranging from 25-to-50 minutes in length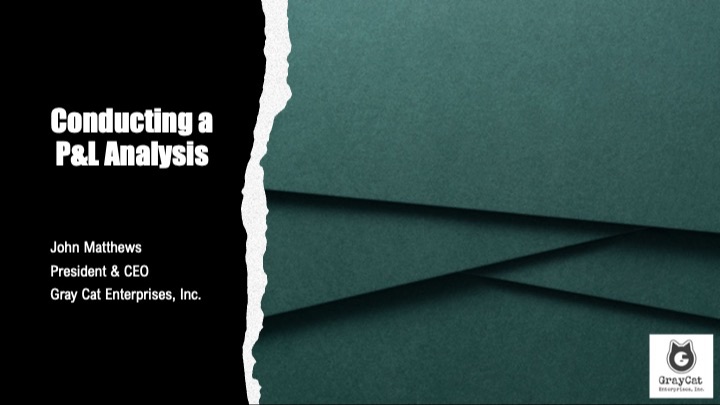 Count the Pennies and the Profits will Flow
Simply put, P&L stands for Profit & Loss. Developing a "Four-Wall P&L Analysis" is a helpful tool to better understanding both revenue projections as well as variable and fixed expenses. Managing to your store P&L will create greater overall profits than simply reading the results at month-end.
CLICK HERE TO ORDER THE CONDUCTING A P&L ANALYSIS COURSE TODAY!
Game-Changing Strategies for Retailers
This book walks readers through the key elements of founding, maintaining, and growing a business and demonstrates the importance of business planning; and the intricacies of daily operations, merchandising, marketing, real estate, and capital management.
Order Game-Changing Strategies for Retailers from Amazon
"Thank you so much for all your support these past 3 years. It has been awesome to watch our office turn around and be an outstanding profitable business. I know it would not have happened without your guidance."
Nancy Quam

- Sourcing Specialist, Deluxe Branded Marketing
"John Matthews recently completed a consulting assignment at Global Partners LP and the recommendations and methodologies he helped implement have streamlined our processes and saved our Food Service division a great deal of time and money. With his knowledge and expertise gained from years of analyzing our industry, John educated my staff about best practices, organizational changes, and development of new strategies. He was able to help our team to understand ways to perform needed tasks more effectively. "
Joy Almekies
- Senior Director of Food Services, Global Partners
"John establishes his credibility almost instantly, due not only to his impressive background but also with a confident presentation of himself and his expectations of his team. He infuses creative approaches to sales situations, always keeping a careful eye on the bottom line. During his tenure with my company, we grew our business by 5.3% YOY, and crushed overall profitability 4X over budget by streamlining costs and maximizing resources."
Eric Greiling
- Former GM, Safeguard by Advent
John Matthews

- President & CEO, Gray Cat Enterprises, Inc.

John Matthews is the Founder and President of Gray Cat Enterprises, Inc. a Raleigh, NC-based management consulting company. Gray Cat specializes in strategic project management and consulting for multi-unit operations; interim executive management; and strategic planning. Mr. Matthews has over 30 years of senior-level executive experience in the retail industry, involving three dynamic multi-unit companies. Mr. Matthews experience includes President of Jimmy John's Gourmet Sandwiches; Vice President of Marketing, Merchandising, Corporate Communications, Facilities and Real Estate for Clark Retail Enterprises/White Hen Pantry; and National Marketing Director at Little Caesar's Pizza! Pizza!