The Gray Cat Learning Series
Twelve (12) hands-on, business training courses each ranging from 25-to-50 minutes in length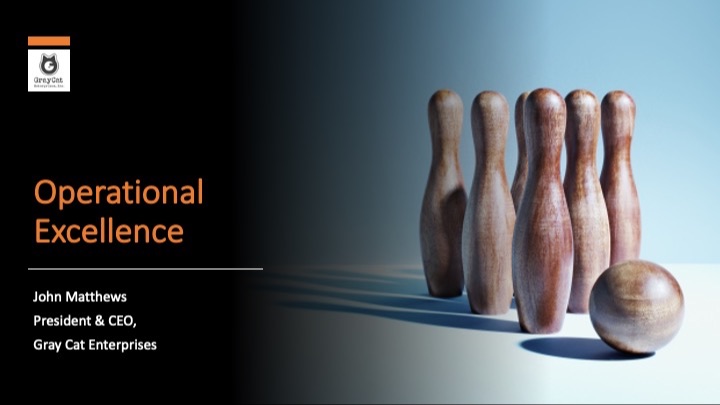 Game-Changing Strategies for Retailers
This book walks readers through the key elements of founding, maintaining, and growing a business and demonstrates the importance of business planning; and the intricacies of daily operations, merchandising, marketing, real estate, and capital management.
Order Game-Changing Strategies for Retailers from Amazon
"I had the privilege of working for John at Clark Retail Enterprises. He is a very detail-oriented leader, who is always bringing out the very best in his team. John is motivating and passionate about every project brought before him. He was always challenging and bringing Clark's marketing into a new level. John inspired all that worked around him. I am very thankful to have had the opportunity to work with John and would do it again in an instant."
Ken Ruona

- Director, Operations, Taubman Centers,Inc.
"John has a tremendous breadth of knowledge and experience in all key areas of retailing; Operations, Marketing, Advertising, Corporate Communications, Real Estate and Store Development. John not only has the ability to develop strategic plans and insights into the marketplace, but has the unique talent of bridging high level strategic plans all the way to flawless tactical execution."
Scott Weber
- Executive VP, KeHe Corporation
"John is a forward thinking, high-quality, well rounded executive that is very capable of leading an organization through a myriad of business issues. He has full understanding of all aspects of what it takes to build a successful business (operations, marketing, finance, etc...). During the time I worked with John, he efficiently led his department, and was integral in helping grow the Little Caesars brand during his tenure."
Stuart Field
- Former

Director of Operations, Little Caesars Pizza
John Matthews

- President & CEO, Gray Cat Enterprises, Inc.

John Matthews is the Founder and President of Gray Cat Enterprises, Inc. a Raleigh, NC-based management consulting company. Gray Cat specializes in strategic project management and consulting for multi-unit operations; interim executive management; and strategic planning. Mr. Matthews has over 30 years of senior-level executive experience in the retail industry, involving three dynamic multi-unit companies. Mr. Matthews experience includes President of Jimmy John's Gourmet Sandwiches; Vice President of Marketing, Merchandising, Corporate Communications, Facilities and Real Estate for Clark Retail Enterprises/White Hen Pantry; and National Marketing Director at Little Caesar's Pizza! Pizza!