The Gray Cat Learning Series
Twelve (12) hands-on, business training courses each ranging from 25-to-50 minutes in length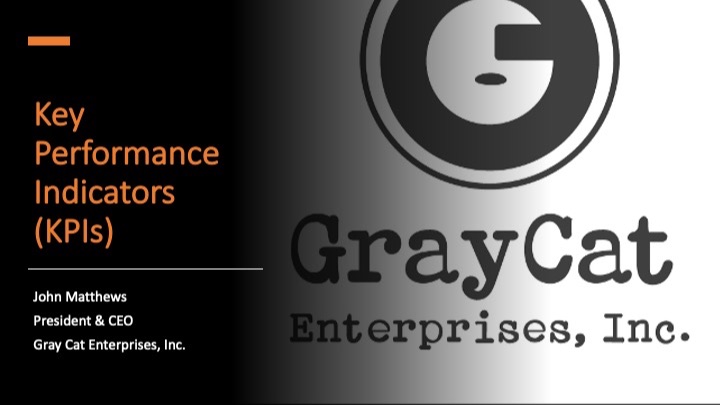 Stop Managing Your Business with Anecdotal "I Think" Statements
Key Performance Indicators (KPI's) are a vital resource to managing your business. This course explains how a disciplined KPI management process shifts the organization – through an annual, quarterly, rolling forecast model process – to a forward thinking, action organization rather than backward reviewing financial company.
CLICK HERE TO ORDER THE KEY PERFORMANCE INDICATORS TODAY!
Game-Changing Strategies for Retailers
This book walks readers through the key elements of founding, maintaining, and growing a business and demonstrates the importance of business planning; and the intricacies of daily operations, merchandising, marketing, real estate, and capital management.
Order Game-Changing Strategies for Retailers from Amazon
"John and I worked closely on the transition of several business from franchise owned units to company owned units over several years. John can quickly analyze the business and begin to collect metrics that are key to understanding the business and to forecasting revenues into the future. John is hands on, personable and gets the job done."
Kevin Derella

- VP, Franchise Growth and Development, Safeguard Business Systems
"As one of our most trusted and competent board members, John's assistance and expertise was extremely helpful as he worked with our management team to address our most pressing business challenges. As a board member and consultant, his input and was invaluable. I wouldn't hesitate to recommend John to anyone wanting to improve their business performance."
Bob Underwood
- Former CFO, FB Johnston Company
"John has worked on our team for several years as a Management Consultant. John's attention to detail, understanding of the businesses he oversees, and accuracy of revenue and expense forecasting has always made my job easier. When needing to connect, John is available and knowledgeable and is willing to step in beyond what may be considered normal consultant work. John is a true strategic and operational partner."
Brad Ledvina
- VP, Finance, Deluxe Corporation
John Matthews

- President & CEO, Gray Cat Enterprises, Inc.

John Matthews is the Founder and President of Gray Cat Enterprises, Inc. a Raleigh, NC-based management consulting company. Gray Cat specializes in strategic project management and consulting for multi-unit operations; interim executive management; and strategic planning. Mr. Matthews has over 30 years of senior-level executive experience in the retail industry, involving three dynamic multi-unit companies. Mr. Matthews experience includes President of Jimmy John's Gourmet Sandwiches; Vice President of Marketing, Merchandising, Corporate Communications, Facilities and Real Estate for Clark Retail Enterprises/White Hen Pantry; and National Marketing Director at Little Caesar's Pizza! Pizza!