The Gray Cat Learning Series
Twelve (12) hands-on, business training courses each ranging from 25-to-50 minutes in length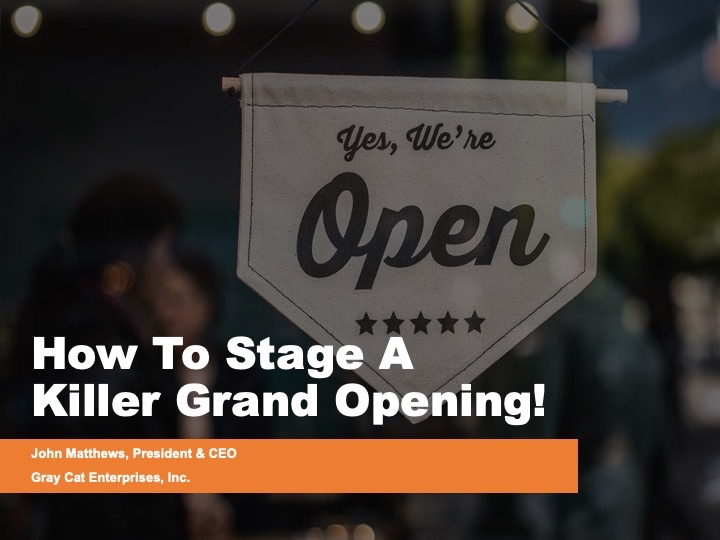 Congratulations on the opening of your new retail store!
You have worked hard to make your store a reality–-now it is time to introduce your store to the all-important three-mile trade area surrounding it. Creating an exciting grand opening requires work upfront, but in the long run will make your store start off on the right foot in your community. It is critical to make a great first impression to both the community as well as your individual customers.
CLICK HERE TO ORDER THE GRAND OPENING/ANNIVERSARY COURSE TODAY!
How to Stage a Killer Grand Opening!
This 30-page manual is designed to give you "how-to" instructions to make your grand opening or anniversary a huge success. The key to a great grand opening is to use a variety of techniques included in this manual to call attention to your new store. That way, you will significantly enhance your store's image.
Order How to Stage a Killer Grand Opening from Amazon
"John Matthews knows "John helped Quiznos in developing Local Store Marketing and Grand Opening tools and also in a series of motivational speaking engagements with our franchise owners. John was very well-liked by the Quiznos community and he brought tremendous knowledge of and enthusiasm for LSM tactics. He's a very focused, creative, and high-energy individual with a can-do attitude."
Rebecca Steinfort

- Former VP, Corporate Strategy, Quiznos
"John Matthews is one of smartest, strategic, and instinctive marketers I've known. What makes him one of the best is that he's also enthusiastic and practical, cutting right to the chase to maximize effectiveness, and efficiency. He's a master at organization and detail, as well as networker. He developed tremendously successful marketing plans that impacted national efforts, and drove huge sales gains on a regional and local level."
Brad Back
- Former SVP, Marketing, Little Caesar Enterprises
"I have had the good fortune to hear John Matthews of Gray Cat Enterprises speak about Grand Openings and Local Store Marketing on two occasions in the past year. I find his ideas to drive retail sales to be new, exciting, and innovative. Any retailer that is wise enough to implement even a few of them couldn't help but increase their sales volume and bottom line."
Ken Stoner
-
Convenience Store Project Manager, Martin Bros. Distributing Company
John Matthews

- President & CEO, Gray Cat Enterprises, Inc.

John Matthews is the Founder and President of Gray Cat Enterprises, Inc. a Raleigh, NC-based management consulting company. Gray Cat specializes in strategic project management and consulting for multi-unit operations; interim executive management; and strategic planning. Mr. Matthews has over 30 years of senior-level executive experience in the retail industry, involving three dynamic multi-unit companies. Mr. Matthews experience includes President of Jimmy John's Gourmet Sandwiches; Vice President of Marketing, Merchandising, Corporate Communications, Facilities and Real Estate for Clark Retail Enterprises/White Hen Pantry; and National Marketing Director at Little Caesar's Pizza! Pizza!