The Gray Cat Learning Series
Twelve (12) hands-on, business training courses each ranging from 25-to-50 minutes in length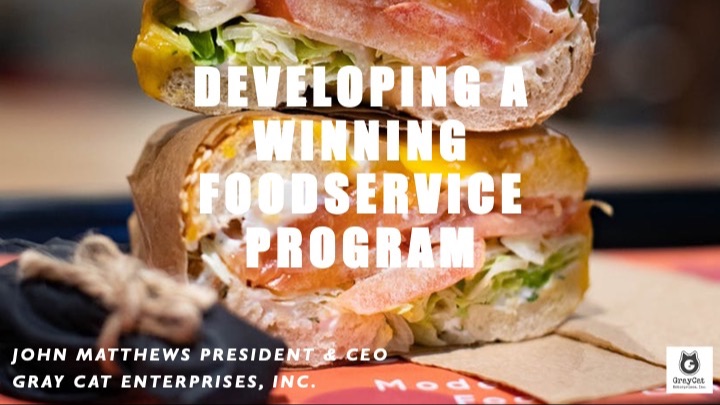 The Future is Foodservice
In the convenience store marketplace, margins continue to tighten on core products such as candy, snacks and tobacco. Prudent operators are attempting to stem the tide by introducing foodservice items into their stores. Most facilities provide plenty of customer traffic and space within the store to enable modifications for introducing a foodservice operation. While the desire to incorporate foodservice is on the forefront, operators need to address every aspect of the implementation.
CLICK HERE TO ORDER THE FOODSERVICE COURSE TODAY!
Launching a Foodservice Operation in your C-Store is Both an Exciting Initiative and a Smart Decision
This course helps you better understand all of the elements to consider in launching your foodservice program.
Watch a Course Summary for Foodservice
Local Store Marketing For Retailers
This 80-page "how-to" guide is filled with twenty-two (22) proven Local Store Marketing (LSM) programs that you can roll out with immediate sales results for your store. It's perfect for the one-store operator or the multi-store chain!
This guide gives you step-by-step instructions on how to implement effective local store marketing at your store for little or no cost.
Order LSM Book from Amazon
"John had great insight into the petroleum and C-store industry. He did a great job managing a strategy development team for Global John also had abundant knowledge in the food service industry. I would highly recommend John for any project that could use some helpful insight from his vast experience."
Marc Dagesse
- VP, Global Partners
"John was a key reason I joined Jimmy John's. John's vision for how the business could grow and adapt was excellent. John also recognized that the need for execution was important in this vision and John pulled together a plan that ensured communication was clear and accountabilities were understood. I enjoyed my time working with John and I grew from the experience."
John Clark
- Former CFO, Jimmy John's


"I have worked with John many, many times over the past decade with outstanding results. His knowledge of the foodservice market and reaching consumers is unparalleled. I look forward to tapping his expertise for years to come."
John Lofstock
- Editor, Convenience Store Decisions Magazine
John Matthews

- President & CEO, Gray Cat Enterprises, Inc.

John Matthews is the Founder and President of Gray Cat Enterprises, Inc. a Raleigh, NC-based management consulting company. Gray Cat specializes in strategic project management and consulting for multi-unit operations; interim executive management; and strategic planning. Mr. Matthews has over 30 years of senior-level executive experience in the retail industry, involving three dynamic multi-unit companies. Mr. Matthews experience includes President of Jimmy John's Gourmet Sandwiches; Vice President of Marketing, Merchandising, Corporate Communications, Facilities and Real Estate for Clark Retail Enterprises/White Hen Pantry; and National Marketing Director at Little Caesar's Pizza! Pizza!