The Gray Cat Learning Series
Twelve (12) hands-on, business training courses each ranging from 25-to-50 minutes in length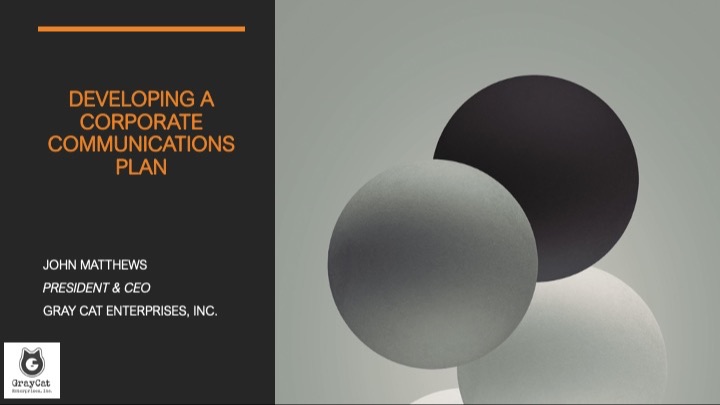 Put your Best Foot Forward in Good Times and Bad
Amazingly, many companies do not think about communications – both internally and externally – until it is a necessity. Developing the process for delivering your communications on an ongoing basis is critical to maintain a consistent message as well as a continuous forum from which to communicate.
CLICK HERE TO ORDER DEVELOPING A CORPORATE COMMUNICATION PLAN COURSE TODAY!
Game-Changing Strategies for Retailers
This book walks readers through the key elements of founding, maintaining, and growing a business and demonstrates the importance of business planning; and the intricacies of daily operations, merchandising, marketing, real estate, and capital management.
Order Game-Changing Strategies for Retailers from Amazon
"Working with John Matthews has allowed for on the spot development to execute regional growth and pave the way for future business. John worked with the Russo marketing team to develop a timeline for go to market and ensure all areas are covered. In addition, John molded communication strategy for both sales & marketing to hit all divisions. If you're looking for a partner which can understand your business now and help shape for the future, Gray Cat is your solution."
Peter Liakouras
- Director, Sales & Marketing, Russo Power
"It is my pleasure to recommend John. I have worked with him in two different roles, and two different companies, which equally great results. John is an expert in his field and had the ability to create campaigns and strategies unique to your business. John is professional, reliable, and easy to work with. With two different franchise companies I have seen him work with a large variety of individuals and personalities with ease. His ability to communicate the value of strategic local marketing combined with leadership during the process make it a great experience. Any company would be well served to work with John and Gray Cat Enterprises."
Amy Tiller

- CEO/Co-Fonder at Inspired Results, Inc.
"John Matthews is a talented, hardworking, professional, and unique among business leaders today. I had the opportunity to work on John's team during his time at Clark Retail Enterprises, Inc. and during a consulting project at Gray Cat Enterprises. John's passion, drive, creativity and focus on the strategic picture make him an invaluable asset to any organization or project. The coaching I received under his leadership has been instrumental throughout my career."
Marlo Michalek-Fogel
- Former Advertising Director, Clark Retail Enterprises, Inc.
John Matthews

- President & CEO, Gray Cat Enterprises, Inc.

John Matthews is the Founder and President of Gray Cat Enterprises, Inc. a Raleigh, NC-based management consulting company. Gray Cat specializes in strategic project management and consulting for multi-unit operations; interim executive management; and strategic planning. Mr. Matthews has over 30 years of senior-level executive experience in the retail industry, involving three dynamic multi-unit companies. Mr. Matthews experience includes President of Jimmy John's Gourmet Sandwiches; Vice President of Marketing, Merchandising, Corporate Communications, Facilities and Real Estate for Clark Retail Enterprises/White Hen Pantry; and National Marketing Director at Little Caesar's Pizza! Pizza!